On a beautiful warm May sunday, our Lavender has  given birth to Rhiannon.

Although the timing was about right, Lavender was giving nothing away, that we could notice, and the first sign was Caerthan spotting some commotion in the field shelter just after 2.00.

And there she was!

The poor little thing was covered in bits of straw and dust from the field shelter but once out in the sun she soon dried off and was running about playing with Molly and Olive.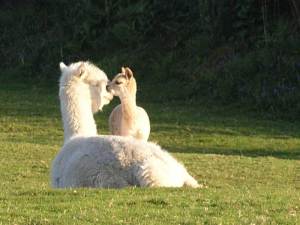 Gwen sat there, captivated. Lavender munched on nonchalantly …

Rhiannon is either light or mid fawn, hard to say just yet, and has the awesome half-Accoyo Teifi Dreamcatcher for a dad.

Needless to say we are delighted – another stunning little alpaca for Pistyll Gwyn