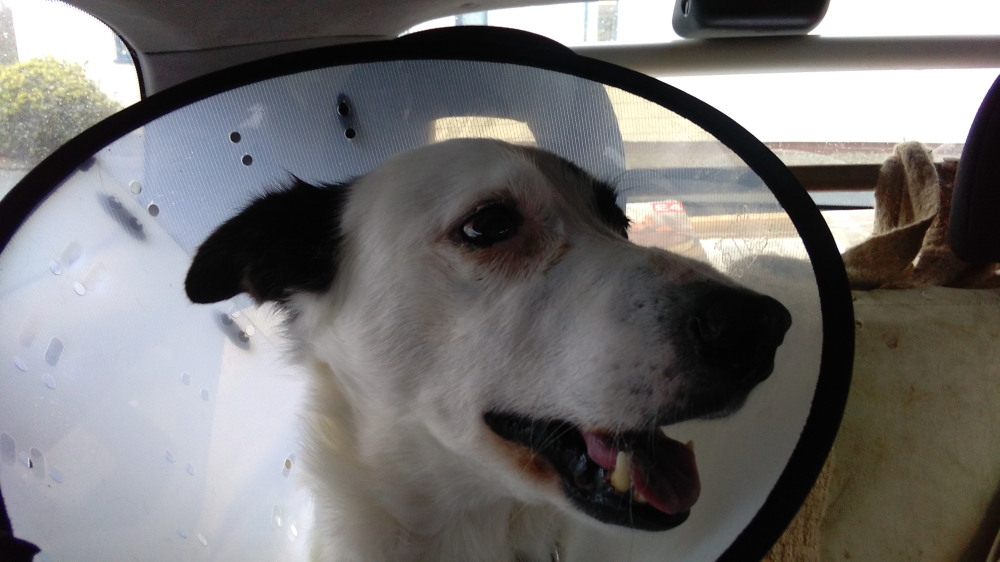 It has been an emotional week, at the end of an eventful few months. Poor Gwen has had a really rough ride since being diagnosed with diabetes, nearly dying in August and then adjusting to being almost completely blind. As mentioned in my previous post we had set ourselves the goal of restoring her sight, but very soon our focus had to switch to just keeping her alive, in the first instance, and then getting the diabetes back under control and returning her to a state of good health.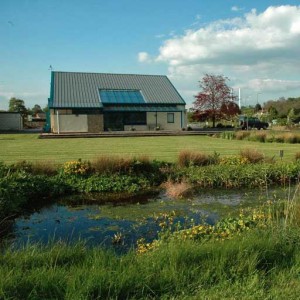 Well, we finally got there at the end of November, so with great excitement, me and Gwen set off to explore the possibility of cataract removal surgery at the Eye Veterinary Clinic near Leominster. Now, less than a month later, the cataracts have gone, Gwen has intra-ocular lenses, and we are all hopping about with joy and excitement on the one hand, and trying to keep her calm and rested while she recovers on the other.
The post-op care is sobering – she has to wear one of those awful collars of course, and we have to administer eye drops and other medications throughout the day, on top of her usual insulin, but it is so worth it! Taking her out for short walks is really exciting – she doesn't know what to look at next, and the spring in her step has returned. No more bumping into fences … Her vision is not back to 100% yet – that will continue to improve for up to 3 months apparently, but even now, three days later, it is enough just having her watch us again, and to be able to negotiate the place easily and without warnings and assistance from us.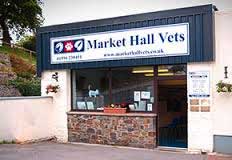 We're not completely out of the woods, regarding possible complications, until the 6 months is up, but they become less likely as time goes on, and as we got through the really volatile first 24 hours with flying colours, I'm optimistic …
We have nothing but praise and gratitude to the staff at the Eye Veterinary Clinic and our local vets practice Market Hall Vets in St Clears, who we feel have done wonders for Gwen and supported us brilliantly as well. We have spent a small fortune, of course, but no regrets there – this has been money well spent. Speaking of which …
Hats off to Mick and Drew
The cataract surgery couldn't have happened without the help of Mick, my dad, who very generously passed on a sizeable chunk of money that he inherited off his good friend Drew. Any small savings we had started for the barn roof had been quickly depleted by the intense veterinary dramas of the summer, and so Gwen would have had to have just accepted her lot – which she would have done. She had adjusted to being blind, but seeing her try to sort out scrapping alpacas when she couldn't tell the front end from the back was both frightening and sad.
We've all been given a second chance here, so the biggest possible 'thank you' goes out to Mick and Drew.
I regret that I never got to meet Drew, but we've heard the tales of his great compassion and consideration for all animals – we like to think he would view this as a good use of his legacy, even if it is wasn't directly used by Mick himself!