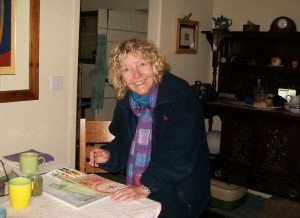 Well … not quite. She had been visiting a friend in Devon, and so made a detour over here for which we are very grateful. So good to see her after nearly … 20 years!
In a nutshell … Donna-lee Iffla is my August 8th Birthday Twinnie, although she has a few years on me, not that you would notice. She is a perfect blend of poetry and pragmatism, and seems to moves her life back and forth across the Atlantic Ocean, following various dreams (and men) of one sort or another. Several years ago she upped sticks from her home in Canada to be with her (much) younger Berber lover, totally inspiring those of us lucky enough to be on her email and Christmas card list!
So she comes here and just … lights up the place. It was two days of reminiscing, catching up, laughter, putting the world to rights, and stories of camels, sand dunes, a thoroughly exotic auberge, and Bandit the Dog. For me it was so good getting some of the details of her life in Morocco fleshed out and how this most down-to-earth of feminist women could adapt to islamic culture, which I must admit I had worried about. For her, I'm hoping our verdant and somewhat soggy patch of paradise was a nice change to her usual desert climes.
The visit had made the distance seem smaller. My only regret is that Youssef himself didn't accompany DL, but that is easier said than done in a world where some can travel easily and others not. Will I accept DL's invitation to make a return visit? I am sorely tempted, particularly now that funds are in a little better shape. I still have to get over my resistance to flying, and and the fact that Morocco, like pretty much all islamic countries, is way behind the times in its attitudes to gay men and women, but the same is true for attitudes to women generally, and DL seems to have confronted that head on with grace and courage, so maybe I could to …